WELCOME TO THE UNIVERSITY OF MICHIGAN AND YOUR NEW HOME
Michigan Housing is a wonderful place of learning, discovery, and engagement. Making a personal investment and getting involved in your community can be a deeply rewarding experience with opportunities to create lifelong friendships and memories. Move-in will look quite different this year. In order to allow for students and families to have a move-in experience that works for them and is enjoyable and safe, we are offering flexible move-in options spread out over time. All move-in times will be by pre-selected time slots only.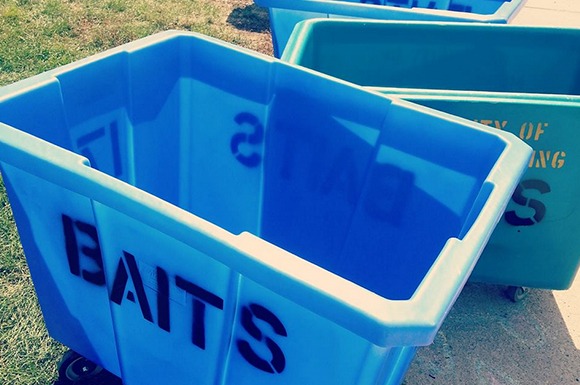 EARLY UNDERGRAD MOVE-IN FOR FALL
If you are part of a program that moves in early (for example, the U-M Marching Band), please contact your program directly for move-in details.
You will receive an email in advance of move-in that will include information on how to pick your move-in time slot.
We are allowing one guest per resident to assist with the move in process. Please consider this as you are planning your move.
When you arrive on campus, you will find City of Ann Arbor parking meters along the front.
On your move in day:
Please do your best to arrive during your assigned move in slot.

Please abide by guidelines for our state and wear face covering  if medically able, during the move-in process. If you arrive without face covering, we will provide one for you. 

We will have markers to indicate where to stand throughout the check-in process for physical distancing.

If you have your Mcard, it will let you into the building.

If you don't have an Mcard, staff will be onsite to let you in.

Please have a photo ID available to assist with the check-in process.

You will receive your room key and mailbox combination at check-in. We will have blue bin moving carts available to check out at move-in to assist with the process.

The blue bin moving carts will be sanitized between each use.
PREPARING FOR MOVE-IN DAY
Make an appointment to move in by selecting a move in time slot here.
Get your 2020-2021 Flu vaccine.
Take a COVID-19 test prior to arrival on campus for Winter 2021. You must have confirmation of a recent negative Covid-19 test, or have an approved exception, to receive your key at check-in. For additional information regarding pre-arrival testing, see the Campus Maize and Blueprint.
Login in to your student portal and access any forms and information you need. Prior to move-in day, you will need to have completed your pre-check-In form. Specific information is available here:
If you are moving into South Quad or Barbour Newberry, you will check in at the West Quad Community Center.
If you are moving into Alice Lloyd, Couzens, or Stockwell, you will check in and get your keys at the Mosher Jordan Community Center.
All residents (and their helpers) are required to show a completed "green" ResponsiBLUE screening at the Community Center. Guests can complete the ResponsiBLUE screening here.

Arrive during your assigned move in slot for a smooth move-in experience.

Curbside street parking is available at City parking meters along the front of the building. The bagged meters are for your use.

Each student may have helpers accompany them inside the building. For everyone's safety and to limit exposure, helpers should limit the amount of time spent inside the building, and must observe all public health guidelines.

All must wear a face covering if medically able. If you arrive without a face covering, we will provide one for you.

Maintain six feet or more of personal distance from others. Follow the markers to indicate social distancing throughout the check-in process, and elevator use.

At the community center, you will receive your room key, mailbox combination or key, Mcard, and have access to a sanitized blue bin moving cart to assist with the process.

Please have a photo ID available to assist with the check-in process.

Supplies to sanitize blue bin moving carts between uses will be provided.
Undergraduate Residence Halls
Arrive during your time slot.

Park and display your unloading permit in your car window.

Check In: Pick up your key and get directions to your room
Unload!
Northwood III
Head to your Community Center at 2150 Cram Place during your time slot
Check in: pick up your key at the community center and get directions to your apartment (If you are using a ride service, ask them to wait for you. You will need a ride to your apartment.
Drive to your apartment and park in front. Display your unloading permit.

Unload!
Allow 60 minutes for unloading your vehicle and checking in (unpacking can come afterward).
Want to know what to bring? Check out our suggestions on our knowledge base. Please remember If you are living with us, you will have access to ethernet and wireless service in the residence halls. Bringing your own router is not permitted.
Refrigerator & Microwave Rentals
If you would like to rent an appliance for your room, including refrigerators and microwaves, or have your furniture lofted or arranged before you arrive, please contact College Products.
All Undergraduate Residence Halls
Residence halls are unable to accept packages prior to August 30. You are welcome to bring your belongings when you arrive, as long as you can accomplish all unloading within your one hour time slot. We also offer some other alternatives via John's Pack and Ship, including in-room delivery of any boxes received by August 15.
Textbooks ordered through the University's course materials partner, Barnes & Noble, can be shipped for free to their locations in the Michigan Union and Pierpont Commons. Look for a link in Wolverine Access where you find your course schedule.
Due to space limitations, the Community Center at Cram Place cannot accept deliveries or store items for residents during move-in. If you plan to ship items, we suggest
Shipping to John's Pack and Ship (and they will deliver to your apartment directly) or
Scheduling delivery to arrive after you move into your apartment so you can personally accept the package/s.
We do not recommend shipping to your Northwood address prior to your arrival because your packages will not be secure if left at the door by the delivery person.
Textbooks ordered through the University's course materials partner, Barnes & Noble, can be shipped for free to their locations in the Michigan Union and Pierpont Commons. Look for a link in Wolverine Access where you find your course schedule