Michigan Housing staff thank you for living with us this year.
Undergraduate residence halls close on Saturday, May 1, 2021 at 12pm.
Read below for details to plan your smooth move-out process from your residence hall.
Residents who need a later move out date due to a religious or cultural accommodation should contact hsg-resed-mimo-commmittee@umich.edu
PREPARING FOR MOVE-OUT DAY
Complimentary packing boxes are available at your community center for your use. Feel free to stop by and pick some up while supplies last.
If you would like to hire a service to help you with packing and shipping or storing your belongings, John's Pack n Ship can help. All personal belongings need to be removed by May 1, 2021 at 12pm.
Microwave and refrigerator rentals
If you have rented an appliance for your room, contact College Products to make arrangements for the pick up of the appliance.
Update your mailing address
Update your address on file with Michigan Housing and any subscription services and vendors you regularly conduct business with.
Provide Housing your forwarding address. Follow the link and select "My Addresses" from the left menu.

Update your address in Wolverine Access through the "Student Business" portal.

Contact any subscription services and provide them with your new address.

Provide notice to the United States Postal Service at USPS
Update accounts that enable delivery-services with your new address.

Magazines, Newspapers, Catalogs, and other Publications: These cannot be forwarded to your new address. Inform these subscriptions of your new address.
The last meal served by Michigan Dining will be dinner on Friday, April 30, 2021. More details can be found on the MDining website.
Don't let your good items go to waste! U-M's Student Move-Out Donation Program encourages students living in the residence halls to donate lightly used items instead of sending them to the landfill. Look for the yellow collection boxes in your residence hall. Please separate donations according to type (food, clothing, shoes, bedding, household items) in the designated boxes. Materials are picked up by U-M Waste Management Services, sorted, and donated to local non-profit organizations. New for spring 2021: we are partnering with Student Life to collect donations for Maize and Blue Cupboard. You can place donations of canned and dry goods, cookware, and personal care items in the designated yellow collection box.
Some parking meters will be bagged for your move-out parking convenience. Parking is free at those meters. If you park at an unbagged meter, you are responsible for paying the applicable fees. Note that meters are free on Sunday.
Request to stay past the closing date
With the university's recent switch to the Pfizer vaccine, some students may need to remain on campus for a second dose.
Students may apply for an extended stay through the Michigan Housing Business Portal. Students staying past May 3rd will move to a temporary assignment in West Quad residence hall.
MOVE-OUT DAY: THINGS TO DO
During Winter Term Move Out, we anticipate construction activity on the Hill area of campus. If living in Couzens Hall, Alice Lloyd Hall, or Mosher Jordan Hall, please note the traffic detours and lane closures below as you plan to move out of your residence hall.
Traffic Updates:
Southbound Observatory will be closed between Ann St. and E. Medical Center Drive.

Northbound Observatory (north of Medical Center Drive) shifts to the west lanes.

Eastbound Ann St. will be closed between Zina Pitcher Pl. and Observatory St.

Pedestrian detour onto a temporary walkway east of the roundabout.
For Your Move Out:
To avoid traffic congestion during Move Out, please enter the Hill area from the South via Geddes Ave. to Observatory St.

While the Eastbound lane of Ann St. will be closed, it will reopen as a temporary loading zone for Couzens Hall Move Out on April 29, 30, and May 1st. Please note it will still be a one-way westbound only, entering from Observatory and exiting at Zina Pitcher.
You may want help on move-out day to get your belongings from your room. Helpers are welcome, and we ask that you minimize the amount of time in the building. Remind helpers to follow public health protocols by wearing a face covering at all times, socially distance from others, and complete the Guest Responsiblue health screening prior to entering the building.
Set your thermostat to the auto-setting

Unplug window Air Conditioning units

Un-loft furniture in all buildings except for East Quad, if you are able

Be sure to check all room drawers/shelves for items

Clean and unplug refrigerators

The room should be visually clear of all trash and personal items

Secure and close windows and the room door
Moving blue bins will be available for your use at the community center
Collect items that are in other areas of your building:
Items in your mailbox

Packages that have arrived for you

A bicycle if you have brought one to campus
Complete the Express Check out form. Once your room is packed up and all belongings have been removed, complete the express checkout form, and upload the requested photos.
Return your room key to your community center. 
Keep your M-Card – you will need it again.
Details on fall move-in for new students will be available in May. We are still developing Michigan Housing's plan for the 2021-2022 academic year, making your health and safety our top priority. We know you're excited to make plans, and we can't wait to meet you.
In the meantime, take a look at the information below to see general information about move-in. As always, this year's plans will reflect the latest public health expertise and may differ from the information here.
Michigan Housing is a wonderful place of learning, discovery, and engagement. Making a personal investment and getting involved in your community can be a deeply rewarding experience with opportunities to create lifelong friendships and memories. Move-in will look quite different this year. In order to allow for students and families to have a move-in experience that works for them and is enjoyable and safe, we are offering flexible move-in options spread out over time. All move-in times will be by pre-selected time slots only.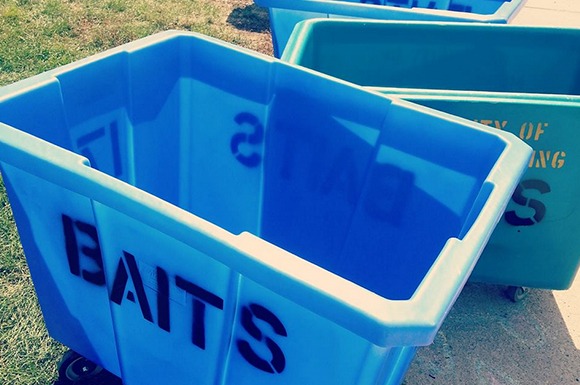 EARLY UNDERGRAD MOVE-IN FOR FALL
If you are part of a program that moves in early (for example, the U-M Marching Band), please contact your program directly for move-in details.
You will receive an email in advance of move-in that will include information on how to pick your move-in time slot.
When you arrive on campus, you will find City of Ann Arbor parking meters along the front.
On your move in day:
Please do your best to arrive during your assigned move in slot.

If you have your Mcard, it will let you into the building.

If you don't have an Mcard, staff will be onsite to let you in.

Please have a photo ID available to assist with the check-in process.

You will receive your room key and mailbox combination at check-in. We will have blue bin moving carts available to check out at move-in to assist with the process.
PREPARING FOR MOVE-IN DAY
Login in to your student portal and access any forms and information you need. Prior to move-in day, you will need to have completed your pre-check-In form. Specific information is available here:
Arrive during your assigned move in slot for a smooth move-in experience.

Curbside street parking is available at City parking meters along the front of the building. The bagged meters are for your use.

At the community center, you will receive your room key, mailbox combination or key, Mcard, and have access to a sanitized blue bin moving cart to assist with the process.

Please have a photo ID available to assist with the check-in process.

Supplies to sanitize blue bin moving carts between uses will be provided.
Undergraduate Residence Halls
Arrive during your time slot.

Park and display your unloading permit in your car window.

Check In: Pick up your key and get directions to your room
Unload!
Allow 60 minutes for unloading your vehicle and checking in (unpacking can come afterward).
Want to know what to bring? Check out our suggestions on our knowledge base. Please remember If you are living with us, you will have access to ethernet and wireless service in the residence halls. Bringing your own router is not permitted.
Refrigerator & Microwave Rentals
If you would like to rent an appliance for your room, including refrigerators and microwaves, or have your furniture lofted or arranged before you arrive, please contact College Products.
All Undergraduate Residence Halls
Residence halls are unable to accept packages prior to August 30. You are welcome to bring your belongings when you arrive, as long as you can accomplish all unloading within your one hour time slot. We also offer some other alternatives via John's Pack and Ship, including in-room delivery of any boxes received by August 15.
Textbooks ordered through the University's course materials partner, Barnes & Noble, can be shipped for free to their locations in the Michigan Union and Pierpont Commons. Look for a link in Wolverine Access where you find your course schedule.