Sustainable living is an important part of the culture at U-M. Recycling, carrying refillable water bottles, reducing water use and saving energy are a few of the ways that you can make a difference every day. To learn more about sustainability on campus, visit our page on Planet Blue, U-M's global sustainability initiative.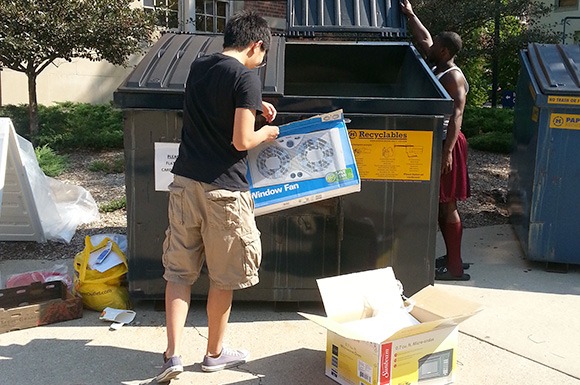 We have single stream recycling in all of our buildings. Just look for the blue bin in your room. We also participate in the campus-wide Recycling Champions Building Competition every year. And, at move-in and move-out, our staff partners with students to recycle moving boxes, plastics and usable items.
In response to student interest, we've implemented composting in five of our residence halls – Bursley, East Quad, South Quad, Oxford and Munger. Food scraps collected from students in these residence halls go to WeCare Organics to be turned in to nutrient-rich compost.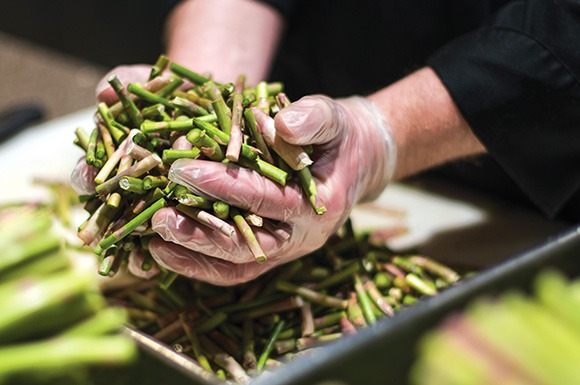 We encourage anyone interested in sustainability on campus to become a Planet Blue Ambassador. Complete a short training about U-M's sustainability initiatives to join thousands of students, staff, and faculty members helping to foster a campus culture of sustainability.
Planet Blue Student Leaders
Planet Blue Student Leaders (PBSLs) are peer educators who promote a culture of sustainability on campus through projects, events, and multimedia content creation. You can reach out to them with questions about campus sustainability. Applications for the PBSL program are open annually from mid-March to August.
Our facilities team has phased out many chemical cleaners and replaced them with liquid ozone. Liquid ozone cleaning uses the basic behavior of oxygen molecules to break up dirt and bacteria. It's better for the environment and more effective than using chemicals.
Sustainable Living Experience at Oxford
The Sustainable Living Experience (SLE) at Oxford is a theme community dedicated to sustainability and environmental justice. This community gives students an opportunity to connect with others who are interested in sustainable living and to bring new ideas in sustainability to Housing.
For more information about sustainability efforts, visit the Student Life section of the Planet Blue website.