Living on campus is a great way to meet graduate students from around the globe. It's also a great way to learn and grow outside of labs and classrooms. When you live with us you'll have the opportunity to expand your network, connect with the broader campus community, make long-lasting friendships and develop the skills essential for success in 21st-century careers.
You are eligible to live with us if you are any of the below:
An enrolled graduate or professional student.

A Ph.D. candidate actively writing a dissertation.

Paying tuition to, and attending classes on, the U-M Ann Arbor campus.
Enrolled for six or more credit hours for two out of three academic terms or actively writing your dissertation (with verification from your faculty chair).

Enrolled as a student in the Law School to be eligible for Lawyers Club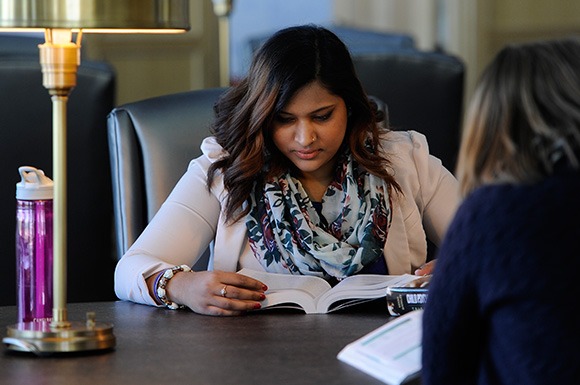 Immunization Requirements
All U-M students residing in Michigan Housing on the Ann Arbor campus are required to submit documentation showing whether they are vaccinated in line with the CDC immunization schedule noted here.
Submit your vaccination information here no later than December 1st.
We will act on your application after your immunization information has been verified.
Newly Admitted Graduate Students
If you are a newly admitted student and you have completed all admission requirements and confirmed your intent to enroll at Michigan, we will send you an email with instructions on how to complete our online housing application. You'll need your U-M email address and your U-M ID number. 
If you are admitted for fall, spring or summer term we will send you information in mid-April. Assignments will be made on a rolling basis and will be released beginning in early May.

If you are admitted for winter term, we will send you information in early November.
Currently Enrolled students
If you are currently enrolled and you'd like to live with us, please request an application by emailing graduatehousing@umich.edu  from your U-M email account. Be sure to include your U-M ID number in your email. Once we verify that you are eligible, we will email a link that gives you access to our application.
Lawyers club: students enrolled in law school
The Lawyers Club offers a once in a lifetime opportunity to live in the iconic Michigan Law Quadrangle. The single occupancy rooms are fully furnished, air conditioned, with a private or semi-private bathroom. Onsite dining is included in the housing contract with a 12-meal-per- week plan. The Lawyers Club houses students from all three years of law school and many LLMs.
Northwood I and II are furnished one or two bedroom apartments with a kitchen, living room and bathroom. Each bedroom comes with one single bed which cannot be removed. Northwood contracts begin on either the 1st or the 16th of your move-in month. All contracts end May 31.
Northwood townhouses are unfurnished and have two or three bedrooms. The communities in Northwood IV and V are ideal for students with household members. Northwood contracts begin on either the 1st or the 16th of your move-in month. All contracts end May 31.
Munger Graduate Residences accommodate up to six or seven graduate students per suite, with a focus on creating a trans-disciplinary community. Each student has their own bedroom and bathroom, and the kitchen and living room are shared. Graduate students complete programs at different times of the year and you may move into a partially occupied suite. Munger Graduate Residences contracts run from either June 1 until May 23, or August 1 until July 23. If you choose to live in the Munger Graduate Residences, you are required to commit to and pay for the full length of the contract. Early contract terminations are not permitted
Martha Cook is home to a warm community of women who are focused on supporting one another while at the University of Michigan. Both undergraduate and graduate students are eligible to live in the Martha Cook Building.
A valued hallmark of the Martha Cook community is its own meal plan, included in the contract, that provides dining Sunday through Friday for Martha Cook residents only. The plan includes the following meals in the Martha Cook dining hall: brunch and dinner on Sunday; continental breakfast, lunch and dinner Monday through Friday. The dining hall is closed on Saturday and no meals are provided. Also included in the Martha Cook meal plan are Friday teas, a number of special meals and events throughout the academic year, as well as two guest meal passes and $25 Dining Dollars for the fall term and again for the winter term. A Martha Cook contract follows the undergraduate calendar and runs from late August until late April/early May.
For students seeking a unique place to live, the Martha Cook Handbook provides more information about the Martha Cook experience. If you have any questions or would like information about Martha Cook scholarships please email marthacookbuilding@umich.edu.  
Henderson House is an economical co-op for sophomore through graduate women. By participating in group meals and activities, the Henderson House creates a tightly knit community of students. The contracts at Henderson House follow the undergraduate calendar and run from late August until late April/early May. For current rates, visit the housing website. For information on the living agreement and application information, email the Henderson House at hsg-assignments-legacy@umich.edu.
Graduate Roommate Information
For Munger Graduate Residences, applicants may not request suitemates.
For Northwood Apartments, single graduate students may choose to rent individually or share an apartment. You may select a roommate of your choice or we can assign a roommate to you. We cannot guarantee requested roommates will be assigned together.
If you wish to request a roommate, you and your roommate should submit your applications at the same time. On the application, both roommates' choices regarding apartment type must match. Contract start dates do not have to match but must be within a 30-day period. If you do not submit an application with a roommate, we will assign one to you. You may not request a roommate once you have signed your contract.
Need a roommate? We offer an online roommate finder board for single graduate students who do not already have a contract and who would like to share an apartment in Northwood Community Apartments. This optional feature is provided to help you connect with other U-M graduate students who are also looking for roommates.
Graduate Student Programs
We offer a broad series of programs and events to support our graduate community.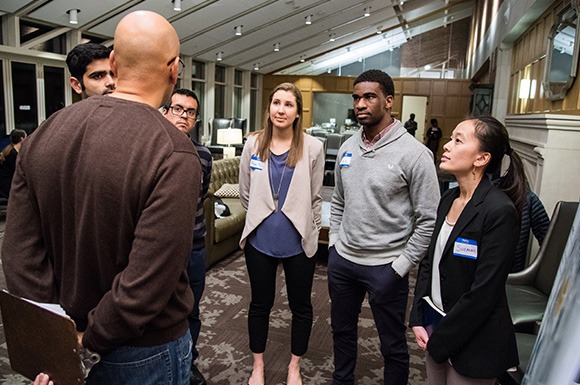 A robust series of free events that focus on building community, bridging diversity, developing skills and finding your passion.
Fairs that will help you connect with organizations and opportunities on campus.
A juried competition that showcases work by teams composed of graduate students and professionals who come together to solve problems.
A series of events, classes and activities to support your physical and emotional well-being.
Your Housing Contract Offer
We will notify you by email if we have a space to offer. Our goal is to notify you a minimum of 30 days prior to your latest requested occupancy date. All housing offers are based on:
Current residents vacating the space.

The type of space you request.

The occupancy dates you request.

Your status in the application process.
If you have not received an offer within 30 days of your latest requested occupancy date, please email us at graduatehousing@umich.edu.