Yuri Kochiyama Multicultural Lounge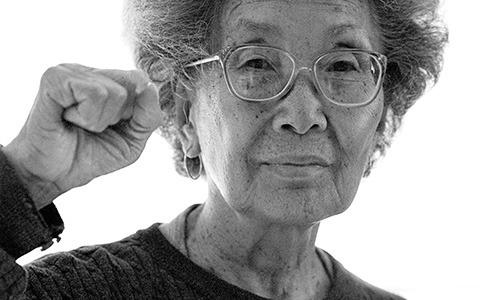 Yuri Kochiyama Multicultural Lounge is located in South Quadrangle.
Yuri Kochiyama was born in San Pedro, CA in 1922 to Japanese immigrants. She graduated from Compton Junior College, where she studied English, journalism, and art. After Japan bombed Pearl Harbor in 1941, Kochiyama and her family were held in internment camps. Her experience there led her to support the civil rights movement, black liberation, black and Asian American solidarity, and government redress for internment.
Kochiyama met her husband, Bill Kochiyama, while interned. They moved to Harlem, NY, where they joined the Harlem Parents Committee and the Congress of Racial Equality. Kochiyama was also a member of the Organization for Afro-American Unity (OAAU), and a close friend of Malcolm X. She is well-known for the photograph of her holding Malcolm X after he was shot at the Audubon Ballroom in Harlem in 1965. After Kochiyama's death in 2014, the White House recognized her for dedicating her life to social justice for all communities of color. The Yuri Kochiyama Lounge in South Quad was dedicated on April 17, 1999. Kochiyama visited South Quad before the interior design of the lounge was completed.