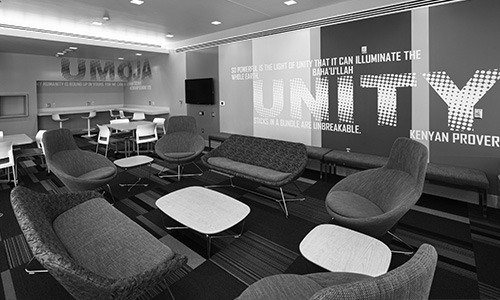 Umoja Minority Lounge is located in Alice Lloyd Hall.
The Umoja Minority Lounge is located on the second level.
Hours

monday: 10 a.m. to 12 a.m.
tuesday: 10 a.m. to 12 a.m.
wednesday: 10 a.m. to 12 a.m.
thursday: 10 a.m. to 12 a.m.
friday: 10 a.m. to 12 a.m.
saturday: 10 a.m. to 12 a.m.
sunday: 10 a.m. to 12 a.m.
The Umoja Lounge, formerly known as the Newcomb Lounge, was dedicated in Alice Lloyd Hall in 1991. The name of this lounge was inspired by Kwanzaa, an African American holiday observed from December 26th to January 1st. In Swahili, Kwanzaa means "first fruits of the harvest." Since its founding in 1966 by Dr. Maulana Karenga, this holiday has gained tremendous acceptance. More than 15 million people worldwide participate in Kwanzaa today.
Overall, Kwanzaa is a celebration of traditional African values, represented by the seven guiding principles of Umoja (Unity), Kujichagulia (Self-Determination), Ujima (Collective Work and Responsibility), Ujamaa (Cooperative Economics), Nia (Purpose), Kuumba (Creativity), and Imani (Faith). The first day of Kwanzaa is Umoja, the Swahili word for "unity," celebrating togetherness of family and the community. The decision by Alice Lloyd residents to change the lounge's name to Umoja stemmed from a desire to reflect the original goal of this lounge: to promote unity among students of color.