Rosa Parks Minority Lounge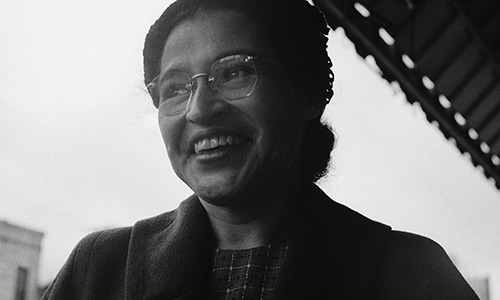 Rosa Parks Minority Lounge is located in Stockwell Hall.
The Rosa Parks Lounge in Stockwell Hall was dedicated in 1973. Rosa Parks, an icon of the civil rights movement, was born in Tuskegee, Alabama in 1913. She grew up in the Jim Crow South, under laws that effectively disenfranchised black voters and allowed racial segregation in public facilities and retail stores, including public transportation. In 1933, Parks finished her high school studies, during a period when less than 7 percent of African Americans held a high school diploma.
In 1955, Parks refused to give up her seat in the "colored" section of a bus to a white man who was standing, as was required by Montgomery city ordinance at the time. This action started the Montgomery Bus Boycott that lasted over a year and inspired civil rights protests nationwide. The Supreme Court ruled such segregation unconstitutional in 1956. Parks later worked as the secretary to the NAACP President and organized on behalf of political prisoners. In 1996, the civil rights pioneer received the Presidential Medal of Freedom. Parks passed away in Detroit in 2005. She was the second woman and first African American to lie in state in the U.S. Capitol Building Rotunda.