Nikki Giovanni Minority Lounge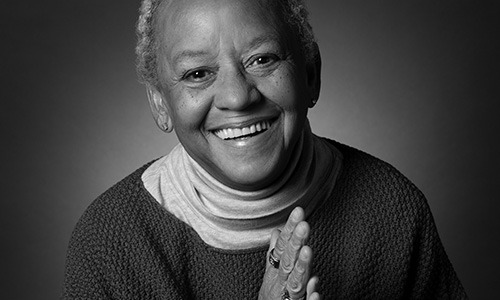 Nikki Giovanni Minority Lounge is located in Mosher-Jordan Hall.
Poet, writer, and lecturer Nikki Giovanni was born in Knoxville, Tennessee in 1943. She graduated from Fisk University and holds honorary degrees from institutions all over the country. Among Giovanni's notable books of poetry are "Black Judgment and Those Who Ride the Night Winds", which were influenced by her participation in the Black Arts and Black Power Movements of the 1960s. Giovanni has taught at many universities including Rutgers, Ohio State, and Queens College (City University of New York). Giovanni is currently a University Distinguished Professor at Virginia Tech.
Giovanni visited the University of Michigan, Ann Arbor in January 1999 to speak at the annual MLK, Jr. Day Symposium. While on campus, she also spoke to a group of students in Mosher Jordan Hall's Nikki Giovanni Lounge, dedicated that same year;1999. This lounge celebrates her activism and literary contributions. Giovanni's numerous accolades include the NAACP Image Award, the Rosa Parks Women of Courage Award, a Literary Excellence Award, and the Langston Hughes Medal. Her work centers race, gender, sexuality, and the African American family.