Mahatma Gandhi Minority Lounge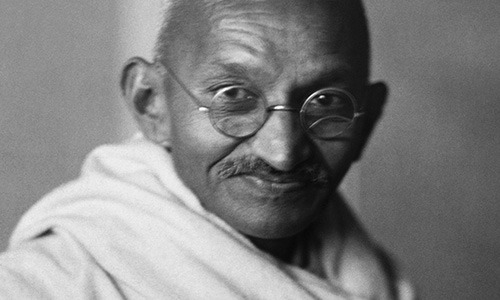 Mahatma Gandhi Minority Lounge is located in Oxford Houses.
Located in the Geddes House, Oxford Hall's minority culture lounge, dedicated in 2005, pays tribute to Mahatma Gandhi, a civil rights pioneer who initiated the practice of non-violent protest for achieving social and political change. Born in Porbandar, Kaithiawad, India on October 2, 1869, Gandhi devoted his life to achieving equality for all, and independence for India from British colonial rule. After studying law in India and England, Gandhi went on a legal assignment to South Africa. There, he experienced color and race-based discrimination and harassment, which led to his involvement in human rights activities. Establishing a method of passive resistance known as satyagraha, Gandhi used protest marches and hunger strikes to achieve his humanitarian and political objectives in South Africa and later, India.
Despite his peaceful approach to change, Gandhi's work outraged numerous groups. After enduring 2,338 days in prison, many hunger strikes and attempts on his life, Gandhi was assassinated in Delhi, India in January 1948. He was 78. American civil rights leader Martin Luther King, Jr. was strongly influenced by Gandhi and patterned his own political and social activism after Gandhi's methods.