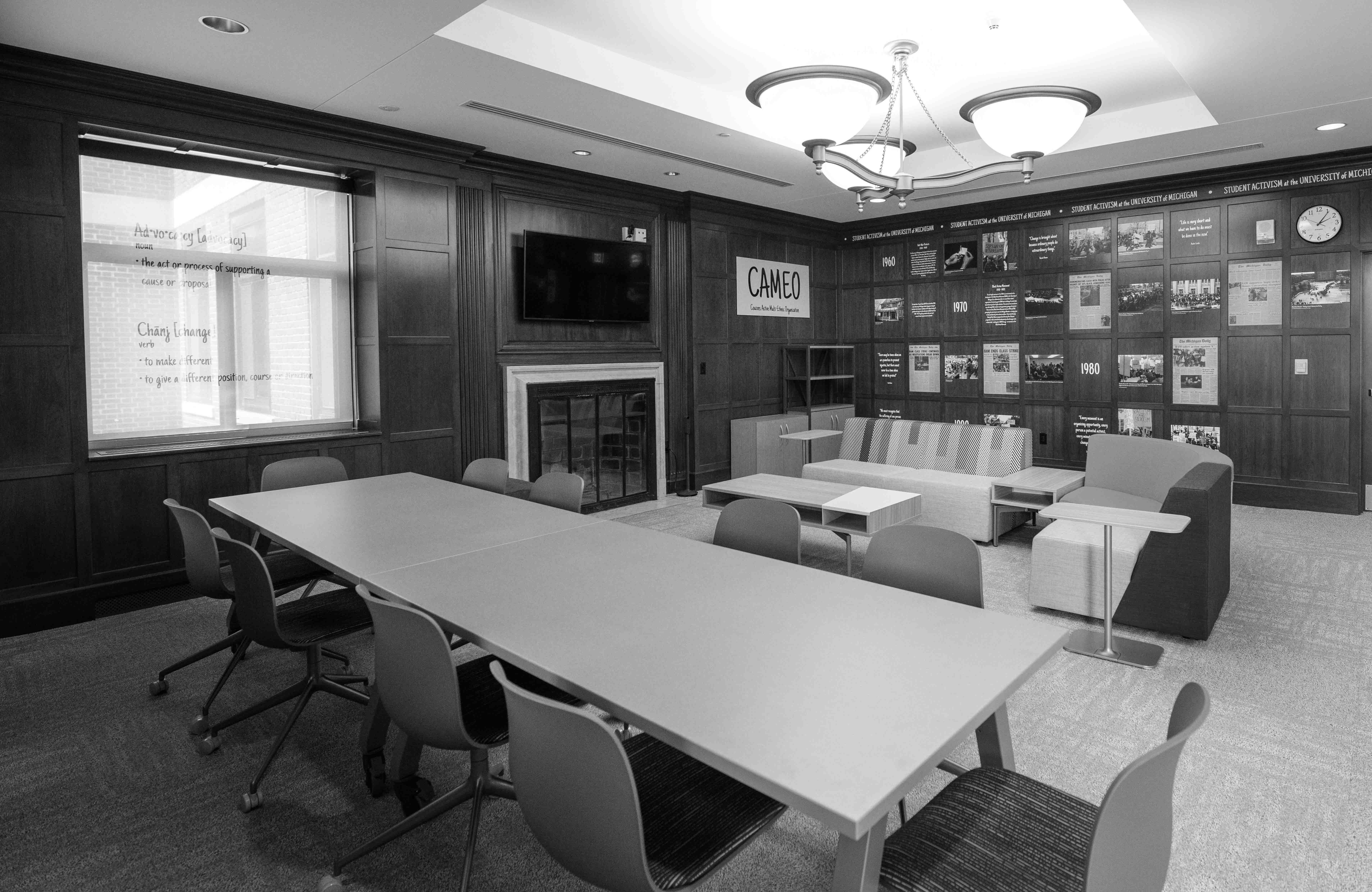 CAMEO Minority Lounge is located in Couzens Hall.
Hours

monday: 10 a.m. to 12 a.m.
tuesday: 10 a.m. to 12 a.m.
wednesday: 10 a.m. to 12 a.m.
thursday: 10 a.m. to 12 a.m.
friday: 10 a.m. to 12 a.m.
saturday: 10 a.m. to 12 a.m.
sunday: 10 a.m. to 12 a.m.
The CAMEO lounge in Couzens Hall is named after the hall's multicultural council, Couzens Active Minority Ethnic Organization. The council represents residents of Couzens who share common interests and seek to make their peers aware of multicultural concerns and issues of diversity. CAMEO council serves as a peer support group for the multicultural student population and conducts cultural programs for the benefit of all residents.
Local Detroit artist Clifton Perry painted the mural in the CAMEO lounge, which celebrates the history of activism on the University of Michigan campus. The mural depicts U-M students from all walks of life, joining together and participating in three different forms of activism: sit-ins, picketing, and candlelight vigils. Perry intended for the mural to be read as a timeline: at the beginning are sit-ins, a peaceful form of protest. Next, picketing represents a more vocal approach to fight against injustices and hopefully prevent the candlelight vigils at the end of the timeline. These vigils occur as the aftermath of people unjustly losing their lives. In addition to the mural, there are photographs around the perimeter of the room that showcase student activism at the University of Michigan over the years.
Although these forms of activism have changed over time, the lounge serves as a call to action, encouraging students to acknowledge the struggle of all and to stand together to correct injustices.