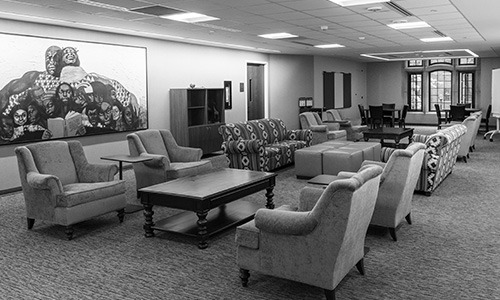 Asubuhi Minority Lounge is located in West Quadrangle & Cambridge House.
The Asubuhi Minority Lounge is located on the first level to the left of the Community Center.
Hours

monday: 10 a.m. to 12 a.m.
tuesday: 10 a.m. to 12 a.m.
wednesday: 10 a.m. to 12 a.m.
thursday: 10 a.m. to 12 a.m.
friday: 10 a.m. to 12 a.m.
saturday: 10 a.m. to 12 a.m.
sunday: 10 a.m. to 12 a.m.
In Swahili, asubuhi means "the next morning" or "new beginnings." Before the West Quad Asubuhi Council was established in 1981, there was no resident forum for social, recreational, and educational activities that served students of color at the University of Michigan. It was the first organized vehicle to address the unique needs of students of color in the residence halls.
One of the main projects of the Asubuhi Council, in conjunction with Minority Peer Advisors (now Diversity Peer Educators) and the director of the building, was to develop plans to remodel the existing minority culture lounge. Two councils, along with other building staff, decided over successive years not to name the lounge in honor of a specific individual. Instead, the council decided to name the facility the Asubuhi Cultural Center and Lounge. There were several design goals for the lounge. First, it was to serve as a pleasant and effective lounge for activities of students of color, including discussion sessions, small group seminars, meetings, and social functions. Second, it was to serve as a storytelling educational gallery and an African society-inspired media presentation that would challenge residents and visitors.
The Asubuhi Lounge was dedicated on February 5, 1985. Jon Onye Lockard, a University of Michigan faculty member and artist, worked closely with lounge designers. In 2015, the Asubuhi lounge was moved to a larger location in West Quad and renovated.