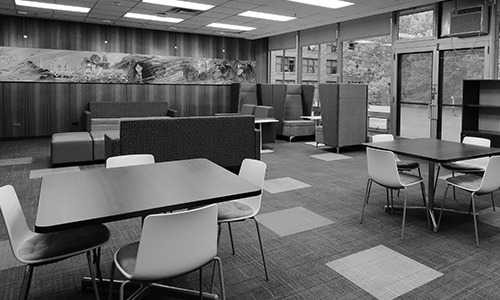 Arati Sharangpani is located in Mary Markley Hall.
The Arati Sharangpani Memorial Lounge is located on the first floor of Markley Hall near the CLC.
Hours

monday: 10 a.m. to 9:30pm.
tuesday: 10 a.m. to 9:30pm.
wednesday: 10 a.m. to 9:30pm.
thursday: 10 a.m. to 9:30pm.
friday: 10 a.m. to 9:30pm.
saturday: 10 a.m. to 9:30pm.
sunday: 10 a.m. to 9:30pm.
The memorial lounge in Markley Hall honors the memory of Arati Sharangpani, a remarkable young woman who studied at the University of Michigan from 1993 to 1997. Born in Baroda, India in 1975, Arati, which means "offering to God," moved to Holland, Michigan with her family when she was two years old. An active and outgoing person, she traveled to Germany as an exchange student during her senior year in high school. Inspired by the cultural diversity she encountered in her travels to Germany and India, Sharangpani resolved to try to make the world a better place.
While pursuing a double major in German and Organizational Studies at the University of Michigan, Arati became involved in many activities. In addition to working as a Resident Advisor in Markley Hall, she actively participated in the Indian American Students Association as the organization's vice president. Arati also became a facilitator for Michigan's 21st Century Program and served as a graduate assistant for the American Culture Department. In addition to her academic and extracurricular responsibilities, Arati also found time to volunteer for a number of local community organizations.
On January 9, 1997, en-route from a successful job interview with Proctor & Gamble in Cincinnati, Ohio, the plane in which Arati was traveling crashed during a snowstorm near Monroe, Michigan. Arati was killed during the crash. The University of Michigan posthumously awarded her two Bachelor of Arts degrees. In 1998, the former Concourse Lounge in Markley Hall was dedicated to celebrate her life and spirit. The lounge was rededicated in 2003 with new artwork and a display specifically in honor of Arati.