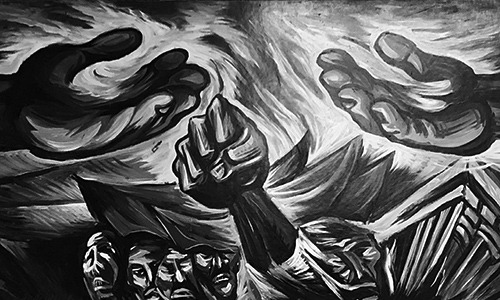 Abeng Minority Lounge is located in East Quadrangle.
The Abeng Minority Lounge is located on the first floor of East Quad; near the community center.
Hours

monday: 10 a.m. to 12 a.m.
tuesday: 10 a.m. to 12 a.m.
wednesday: 10 a.m. to 12 a.m.
thursday: 10 a.m. to 12 a.m.
friday: 10 a.m. to 12 a.m.
saturday: 10 a.m. to 12 a.m.
sunday: 10 a.m. to 12 a.m.
"Abeng" is a Twi word from Ghana, meaning an animal horn or musical instrument. Slaves in Jamaica and other parts of the Caribbean and West Indies used abengs, often accompanied by a drum, to call meetings or communicate with one another. In the United States, the abeng became the symbol of a "call to action" because it was used to call the slave community together for underground meetings during the time of slavery. This name was selected for the East Quad lounge to educate students about this history and to call students to action to be advocates for positive social change at the University of Michigan.
The Abeng multicultural council and lounge were developed in 1971 as the result of the Black Action Movement (BAM). BAM sought equal access and opportunity for students of color at the University, using protest to achieve their goals. This lounge features artwork and colors that symbolize the pan-African movement. It was the first lounge in the Minority Culture and Multicultural Lounge program.